Let kids immerse in the ocean's depths with the new Oli&Carol x BigStuffed collection! Introducing the coolest marine bath toys that will captivate kids & bring them closer to the wonders of the sea.
By adopting Walter, Sharon & Orlando, kids will be embracing more than just toys. These 3 marine albino creatures aim to empower uniqueness, and celebrate the individuality of each kid.
This extraordinary collaboration captures the magic of both brands, combining Oli&Carol's commitment to sustainability & eco-friendly materials with the soulful essence of BigStuffed.
Handcrafted from natural rubber & designed with no holes, these 3 marine-inspired toys are bacteria-free & completely safe for playtime. Perfect for little ones to explore the wonders of the bathtub!
ABOUT BIG STUFFED
Created in 2014 by Dana Muskat, BigStuffed has swiftly gained international recognition, adorning the shelves of top-tier stores worldwide. With notable collaborations with renowned brands like Jacquemus, Bonpoint, and The Animals Observatory, BigStuffed has become more than just a brand of stuffed animals: they are soulful creations with a powerful social message.
GIFTABLE PACKAGING
The box is designed specifically for this collection enhances the product & makes each design a perfect gift! Made enterely with plastic-free recyclable cardboard.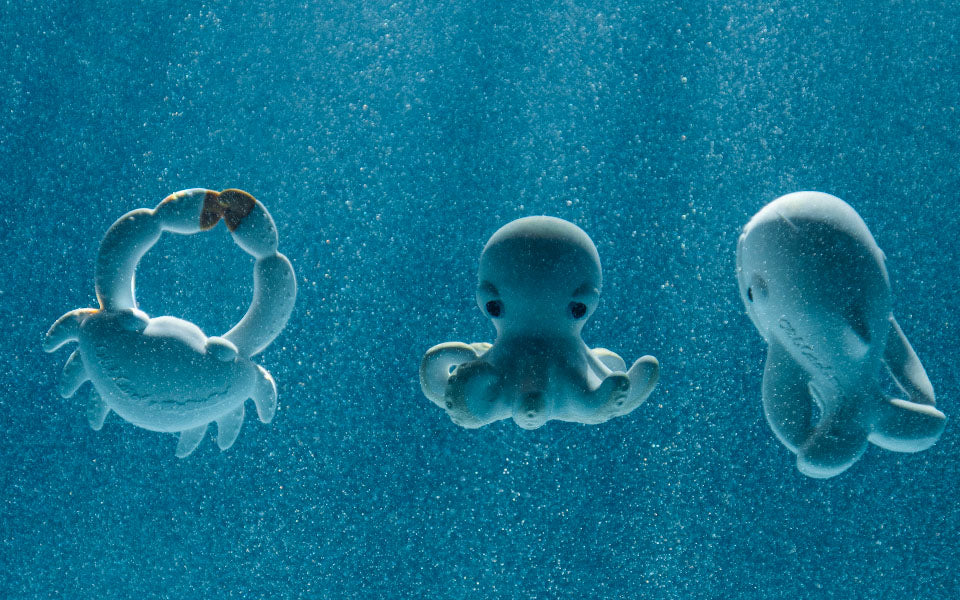 DIVE INTO THE OCEAN
A crab, an octopus and a whale are the perfect individuals to teach little ones to learn and respect the ocean's biodiversity.
ALBINO TOYS
These 3 marine creatures are albino, which aims to empower uniqueness, and celebrate the individuality of each kid.
PROTECT THE REEFS
With every Oli&Carol toy we donate benefits to Caral Gardener's WeTheReefs project, to help protect, restore and repair coral reefs around the world.
DETAILED TEXTURES
Filled with incredible textures and details that will help stimulate little one's senses while chewing or playing with them.
NO HOLE = NO BACTERIA
Made out of one piece with no hole, to prevent the creation of bacteria inside. Ready to play during bath time, and at the pool and beach! 
EASY-TO-HANG
All Oli&Carol x BigStuffed toys are hangable. Ready to take everywhere without losing them!