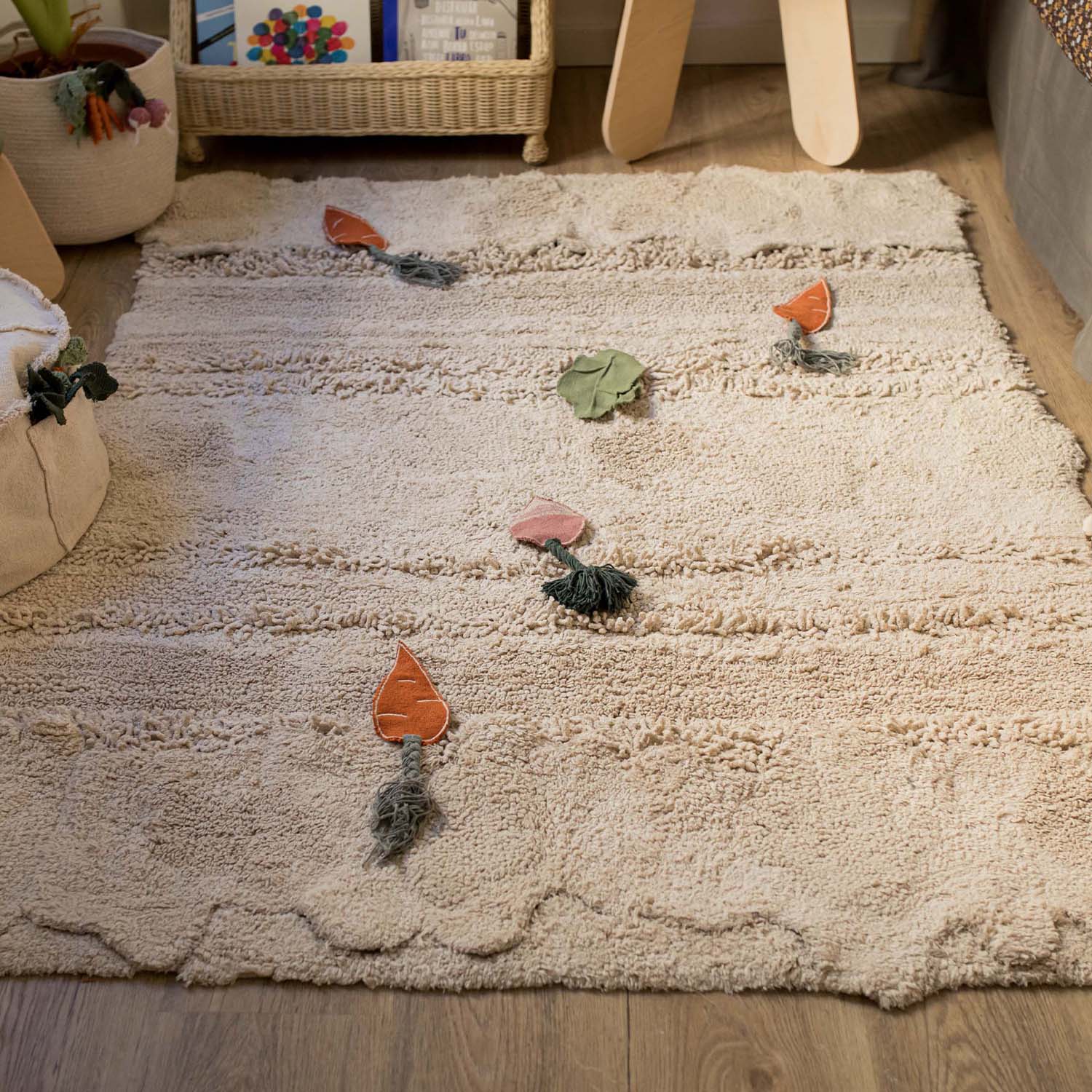 Washable Rug Veggie Garden
DESCRIPTION

Let's bring some gardening fun indoors! This Veggie Garden rug from the Oli&Carol x Lorena Canals collection offers a gardening role-play activity for kids!

Discover a new concept that combines all the fun of a play mat and the beauty of a cotton rug. Its surface conceals little pockets where children can choose where to 'plant' the 15 pieces of canvas veggies, combining textile Cathy the Carrots, Ramona the Radishes and Kendall the Kales during an interactive and gardening make-believe play! These veggie pieces come packed in a practical, illustrated cotton tote bag that also serves for storing the rug.

Its timeless design, in the natural beige of the cotton fiber itself, combines various pile heights and multiple stitching techniques –cut pile, loop, and chenille– to achieve a mixed-texture finish, while its uneven contour lends an organic look to the rectangular shape. Make a twist on your home decor with this dual-purpose rug!

This rug is machine-washable at home! Children will be able to mess around without worrying if it gets dirty. Make your everyday life easier with these easy-to-clean rug!

Size: 120x160 cm

Material: 97 % cotton 3 % other fibers

Base: recycled cotton

Domestically washable: Easy to wash, and can be washed in a conventional washing machine.
Handmade:carefully handmade one by one, and in a traditional way.
Eco-friendly: Natural cotton and nontoxic dyes.
Light thanks to their soft and flexible composition.
Easy to combine: you can combine it with other elements to create a warm and cozy atmosphere.
WASHING & CARE
Washable Rug Veggie Garden