COLLABORATE WITH OUR MINI SOLIDARY TEETHER
Since the beginning of Oli&Carol, their mission has been to share significant messages with their community.
Each collection therefore has a message to transmit. With the new Chewy-to-go mini teethers, Oli&Carol joined with Fundación Luzón and Juan Carlos Unzué in a mission to raise awareness about a minor illness: ALS.
Every 17 seconds a person suffering from ALS passes away. With no cure at the moment, ALS is a degenerative and neurological disease that mainly involves the nerve cells responsible for controlling voluntary muscle movement. 
Oli&Carol will donate 30¢ of each Eli the Clover mini teether to the organization in order to contribute their bit of sand in speeding up the research of this disease.
WHY A CLOVER? 
Clovers are a sign of luck, hope, love, good health & prosperity. But mainly, clovers are the worldwide ALS symbol.
Olimpia and Carolina decided to portray these messages in this solidary teether following the story behind each design.
HOW CAN YOU HELP?
GIFT ELI THE CLOVER!
Support a good cause by gifting this mini teether
For each purchase, we will donate benefits to the ALS reasearch. Once you receive the product, share a picture of your little one with Eli the Clover on social media tagging @oliandcarol & @fundacionluzon to raise awareness about this solidary Chewy-to-go!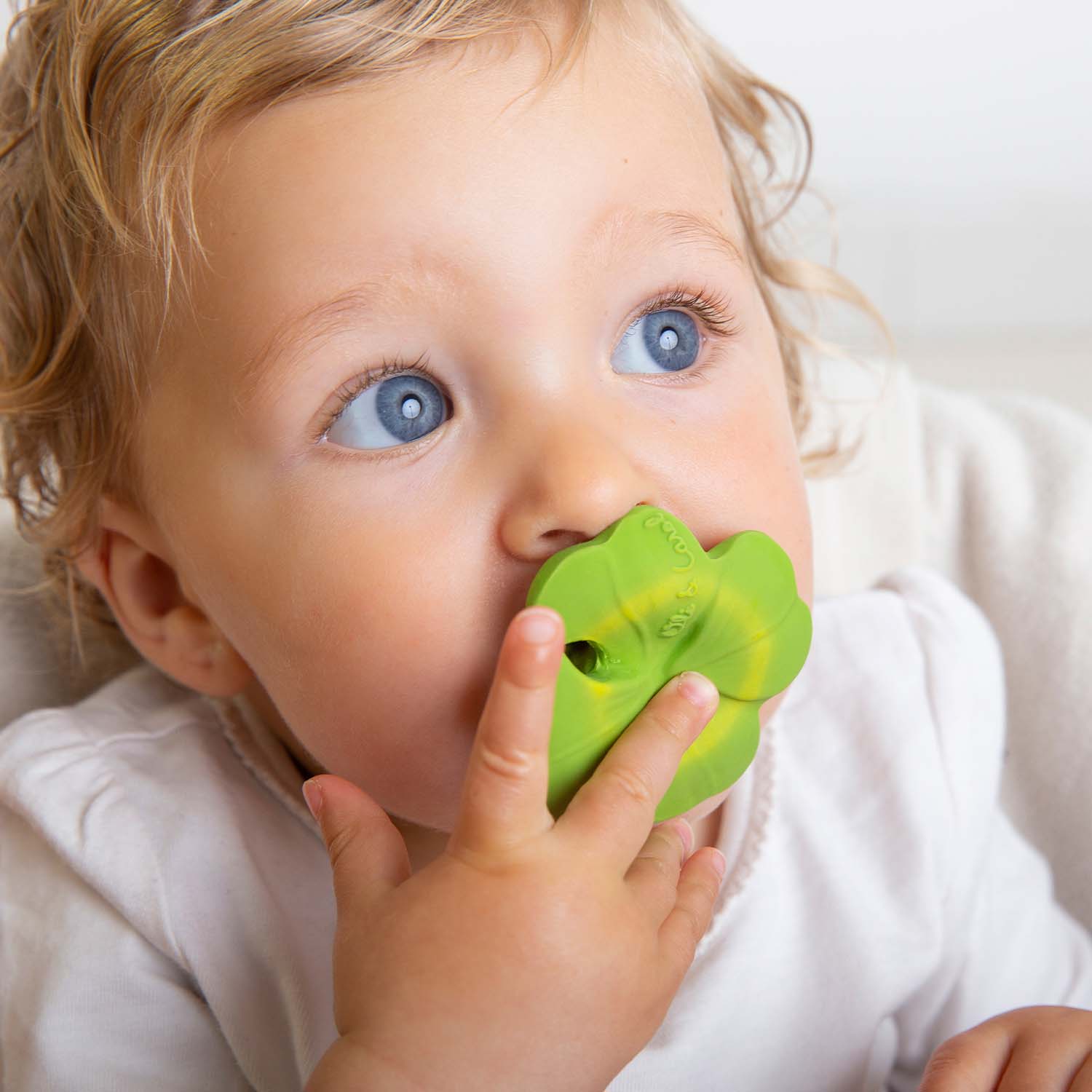 Chewy-to-go
Mini teether with an ergonimic design for newborns
No plastic or silicone: 100% natural rubber from trees
Handcrafted one by one & hand painted with natural pigments
Biodegradable toys: generating the least possible carbon footprint & waste in the planet
Easy to hang & take on-the-go! Say no to loosing your toys
Eli the Clover is the new mini teether chewing concept for babies by Oli&Carol. Designed with an ergonomic shape making it easy to hold and chew on. Including a range of textures, such as raised spots or ribbing, making it very pleasing for little ones to soothe teething gums. This mini teether is easy to hang from a strap and chew it on the go… take your chewy-to-go high & low!
This baby teether is solidary. Its design in the shape of a clover is an icon of good health & luck. For every purchase we are contributing with Fundación Luzón to support ALS research.
This Chewy-to-Go baby teether helps the natural development of babies' mouths while stimulating their senses. Each chewing toy is handmade one by one with 100% natural rubber and hand painted with natural pigments from plants. The perfect sustainable gift for newborns!
Mini teethers with ergonomic design for smaller hands & wide textures made for newborns. 
Natural teethers-to-go inspired in nature made from pure rubber from trees. 
All handcrafted taking care of every detail. There may be minor variations in color and shape.
Realism & color to attract kids & develop imagination
Used as teethers, bath toys and sensory play toys. 
Stimulates baby's senses and soothes teething gums. Soft, easy to grasp and safe to chew. 
Age range: 0+ certified. Recommend for babies and older kids for bath time & role play.
Made with no holes, preventing the creation of bacteria and mold. Floats safely on water. Highly hygienic and mold free.
Free of PVC, BPA, Phthalates and Nitrosamines. Completely safe for kids, non-toxic. 
Low carbon footprint and environmentally friendly.
6 x 6 x 3cm